Dynamic Group is glad to announce that Dynamic Argon Co., Ltd. and Dynamic Chemicals Co., Ltd. are now members of the Cambodia Chamber Of Commerce!
In Cambodia, Chamber of Commerce is established under the Law on Chamber of Commerce promulgated in 1995 and its relevant amendment and regulations of the Kingdom of Cambodia. By nature, Chamber of Commerce is a voluntary membership-based and is a not-for-profit institution representing private sector interests in commercial, industrial, service and craft and agricultural sectors and dedicates to the economic well-being of their territory and of the country as a whole. Large, medium and small legal businesses from virtually every profession across the nation could join the chamber of commerce. The Chamber of Commerce work to make their voice heard and contribute to the efficiency of the government, thus, making business environment friendlier to businesses.
Dynamic Group is delighted to be part of the Cambodia Chamber of Commerce and support their upcoming activities. We also look forward to seeing you in their upcoming events! For more information of Cambodia Chamber of Commerce, please visit the Cambodia Chamber of Commerce website.
About Dynamic Chemicals
To support Cambodia's rapid growth in urban and economic developments, Dynamic Chemicals Co., Ltd. has been established in 2017 to provide professional Construction Chemical Solutions and Industrial Chemical Solutions in the nation.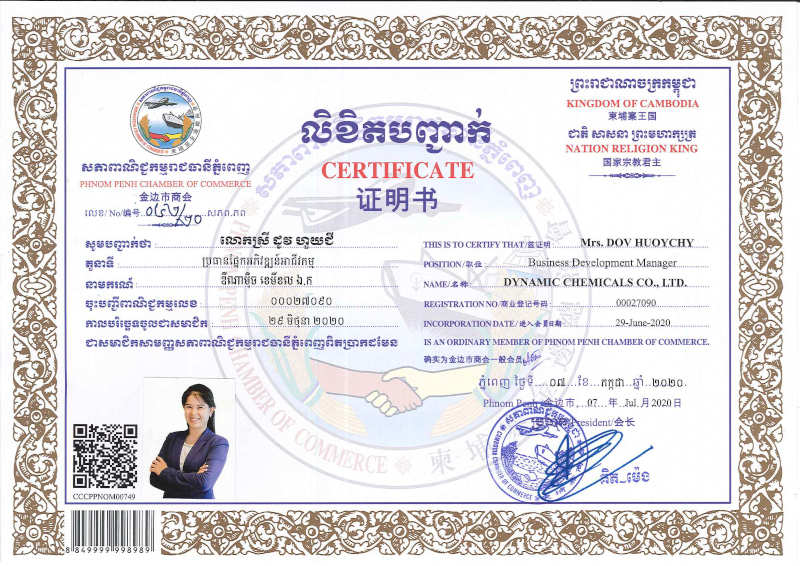 About Dynamic Argon
Dynamic Argon Co., Ltd. provides high quality pharmaceutical products and solutions with GMP standard to medical & consumer channels. We deliver ethical and over-the counter medicines to retailers, pharmacies and FMCGs to every town in Cambodia.