Dynamic Group Cambodia and PeoplesHR Singapore collaborate to automate HR operations.
Phnom Penh, May 9, 2023 - Dynamic Group Cambodia, a leading provider of the latest multi-industrial products, equipment, and solutions, announced today its collaboration with PeoplesHR, a renowned HR technology provider in the Asia Pacific region, to implement an HR system for the group. The system is designed to streamline HR processes, increase efficiency, and provide data-driven insights to promote better decision-making.
The implementation of PeoplesHR is a significant step forward in digital transformation for Dynamic Group Cambodia. By adopting advanced technologies, the company aims to enhance its operations and improve the overall employee experience.
To ensure successful implementation, Dynamic Group Cambodia is committed to involving all stakeholders in the process, prioritizing training, and continuously improving the system. The company's objective is to make life better for all its stakeholders, and PeoplesHR is a key component in achieving this goal.
Mr. Tom Kimson, CEO of Dynamic Group Cambodia, stated, "The collaboration with PeoplesHR to automate and standardize HR functions demonstrates our commitment to driving innovation and enhancing our employees' experience. By streamlining HR processes, the objective is to increase efficiency and offer data-driven insights that will aid our business in better decision-making."
"We are thrilled to announce our partnership with Dynamic Group Cambodia for automating their HR with PeoplesHR. As a leading provider of HR solutions, we understand the challenges that HR departments face, and we are confident that our advanced system will effectively meet and exceed Dynamic Group Cambodia's requirements. We look forward to a successful collaboration and providing exceptional value to their organization," said Mr. Sampath Jayasundara, CEO of PeoplesHR.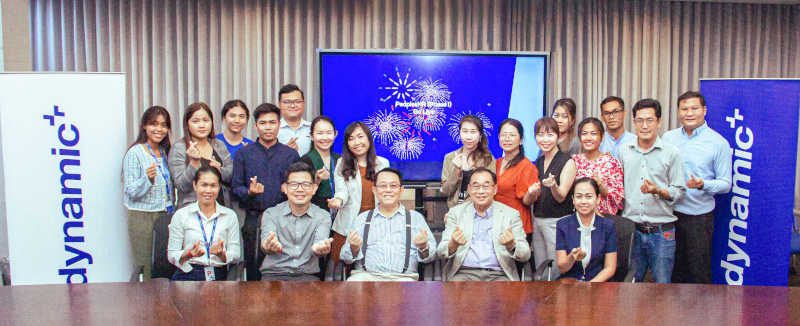 About Dynamic Group Cambodia:
Dynamic Group Cambodia is at the forefront of delivering cutting-edge technologies and pioneering solutions. The company offers a wide range of products and services and has a proven track record of delivering high-quality solutions to its clients, helping to achieve its goal of improving life for all Cambodians.
About PeoplesHR:
PeoplesHR by hSenid Business Solutions PLC is one of the most trusted names in the HR tech industry with over 25 years of experience in the Asia Pacific, Africa, and Middle Eastern regions. PeoplesHR has supported over 1400 HR departments across 20 industries with over a million users in over 40 countries while operating across 6 nations.
For more information, please contact:
Mr. Keo Oudom
HR and Facilities Director
Dynamic Pharma Group
Email:
This email address is being protected from spambots. You need JavaScript enabled to view it.
Phone: +855(0) 16 582 582
Ms. Kep Kalya
Strategy and Corporate Development Director
Dynamic Pharma Group
Email:
This email address is being protected from spambots. You need JavaScript enabled to view it.
Phone: +855(0) 12 984 908
Mr. Sanjaya Ihalagedara
Senior Partner Sales Manager - Cambodia & Myanmar
Email:
This email address is being protected from spambots. You need JavaScript enabled to view it.
Phone: +855 (0) 77 899 221